Another joke before talking about the free software from Microsoft
A friend has just sent me the picture below by e-mail. This is a fake 2 GB pen drive someone bought at one of those little shacks that sell computer parts on an underdeveloped country.
Just got another free software from Microsoft. So kind of them to send me two software free. They were very efficient, I send the email at different times but they send it to me with only one day difference. The Microsoft Office costed US$439.99. They even send me a letter just in case that was any problem with the software. Screenshot would be provided at a later date.
Letter from Microsoft
.
Details of the program cost
Attempted delivery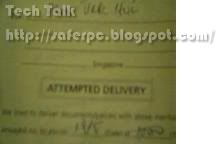 Comparing features
Photo of the box
Photo of inside the box